Last night at 7:15, I looked at Emery and told him I sure wished we had some brownies. He mentioned that we did have ice cream and chocolate morsels, but he could go pick something up. Now I love ice cream and chocolate, but they aren't a substitute for brownies. It was too 'late' for me to send him out for anything - we're early to bed, early to rise kind of folks - and whatever he brought back probably wouldn't be gluten free, so it just wasn't worth it.
I ran to fetch my cookbook to see how quickly (read: easily) I could throw some together, and to my great pleasure, they were super easy and we could give Hattie a bath while they baked. Yes! I would have my brownies this night!
Emery pulled out the little pan of heaven from the oven, and I poured the milk. Then he said, "ice cream?" Oh! I hadn't even thought of brownies a la mode. Yummo. Even gluten free brownies can be thoroughly delicious.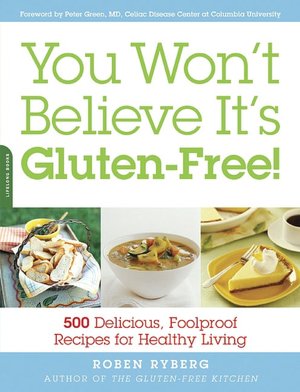 This little gem of a cookbook saved my evening. It may very well be my favorite GF cookbook. I'll tell you why. If you've ever looked into the GF world, you'll know that most recipes call for multiple flours (and starches), which can get pretty complicated. But Roben Ryburg gives ONE flour (or starch) based recipes like rice, corn, potato, or oat, And she gives usually three variations of each recipe with a different base....so it's super easy to whip something up from what you have in your pantry. She also goes one step further and tells you which version she likes best while providing short descriptions about each recipe.
The book does have some pictures, and although pictures are usually a great selling point for me, I don't think they add much to this book.
So there you have it. My go-to cookbook and a satisfied hunger for brownies. Double Win.
Photo credit